WATLOW POWER CONTROLS
Watlow solid state power controllers complement the rapid switching required by PID temperature controls and help deliver optimum system performance and service life. Available in 1-phase and 3-phase/2-leg and 3-leg configuration, Watlow power controllers meet most industrial heating applications. Random, zero cross or phase angle fire options allow for a variety of applications.
Applications
• Semiconductor processing
• Plastics processing
• Heat treating
• Drying ovens
• Food processing
• Petroleum/chemical
• Lighting equipment
• Furnace/oven
DIN-A-MITE
The DIN-A-MITE family is the ideal solid state replacement for mercury displacement relays (MDRs) in an easy-to-install, compact, touch-safe package. The solid state power controllers provides SCR control, heatsink, wiring and touch-safe exterior in one package. By designing the DIN-A-MITE as a total power controller unit, the need to prep wires for terminals, locate the right heatsink and determine adequate terminations is eliminated. It's a complete package you can install easily with CONTROL CONFIDENCE®.
Four DIN-A-MITE styles meet most power controller needs with ratings from 18 to 100 amps with voltages from 24 to 600V~(ac). The four models match load requirements with 1-phase, 3-phase/2-leg and 3-phase/3-leg switching. The controllers also provide a convenient DIN-rail and sub-panel mount package.
| | |
| --- | --- |
| FEATURES | BENEFITS |
| DIN-rail or sub-panel mount | Versatile, quick and low cost installation |
| Compact size | Reduces panel space and reduces cost |
| Touch safe exterior | Safe; protects against inadvertent electric shock |
| Same footprint as comparably rated mercury displacement relays (MDRs) | Easy replacement with environmentally safe product; no mercury problems |
| Variable time base control meets the rapid switching demands of PID temperature control | Helps deliver more accurate process control; increases heater life by reducing over- and undershoot |
| Rugged back-to-back SCR design | Insures long term reliability |
POWER SERIES CONTROLLERS
Microprocessor-Based SCR Power Controller Designed for Application Flexibility
For over thirty years Watlow® has been manufacturing solid state power controllers. Watlow's new POWER SERIES represents the latest in SCR power controller technology. This microprocessor-based product offers features and application flexibility unmatched by any other SCR power controller on the market today.
Capabilities include single-phase and three-phase models from 65 to 250 amps. Field configurable phase angle or zero-cross firing improves application flexibility on site where you need it. 50/60Hz independent operation means you can operate almost everywhere in the world without special calibration considerations. Serial communications utilizing Modbus® protocol allow for remote control setup, and monitoring of load status from a nearby computer station or control room.
On-board semiconductor fusing improves reliability by protecting the SCRs from heater short circuits. Plus, on-board heater bakeout and control diagnostics can help eliminate initial start up problems. All this in a touch-safe package that can be quickly and easily mounted in your control cabinet.
Agency approvals ensure a product that meets world safety and operational standards. You can be assured your power controller will be ideal wherever you choose to do business.
| | |
| --- | --- |
| FEATURES | BENEFITS |
| Microprocessor-based technology | Extremely versatile, field configurable |
| Snap-fit on a pre-mounted plate | Easy installation |
| Models 65 through 250 amp ratings | Handles a wide range of loads |
| Adjustable soft start | Application flexibility |
| Heater and control diagnostics capabilities | Monitor actual heater and control performance |
| Electrically touch-safe package | Increased safety for installer and users |
| Serial communications with Modbus® RTU protocol | Computer control and/or monitoring |
| Multi-zone capability | Increased application flexibility, reduced panel space |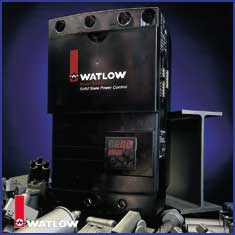 CZR Solid State Contactors
The new SERIES CZR solid state contactor from Watlow® provides a low-cost, highly compact and versatile solid state option for controlling electric heat. With DIN-rail and back panel mounting standard on every controllers, the CZR allows for simple and quick installation.
The extensive capabilities of the SERIES CZR include single-phase, 24 to 50 amp zero-cross and random switching up to 600V~ (see output rating curve). The unique integrated design removes the guesswork associated with selecting a proper heat sink and precise terminations for the application.
This controller holds many agency approvals and is ideal for applications that require UL®, CSA and CE approvals. SERIES CZR contactors are available in V (ac/dc) input contactor versions. All configurations are model number dependent and factory selectable.
The SERIES CZR is reliably backed by a two-year warranty from Watlow.
| | |
| --- | --- |
| FEATURES | BENEFITS |
| DIN-rail or standard panel mount | Versatile, quick and low-cost installation |
| Compact size | Reduces panel space; less cost |
| Touch-safe terminals | Increases safety for installer and operator |
| Mercury free | Environmentally safe |
| Faster switching with solid state | Saves energy and extends heater life |
| UL® 508 recognized, CSA LR700195 certified and CE 60950, VDE 0805 applied for | Applications requiring agency approval |
| Back-to-back SCR design | Rugged design |